Room 122 (Lake Effect Conference Room) (Group Use Rooms: First Floor) Capacity: 4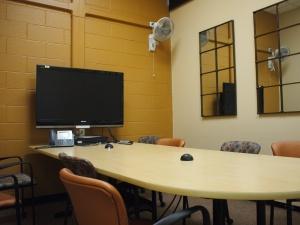 Description
The Conference Room includes: Flat screen TV for teleconferences, DVD/VHS, and laptop display. Phone with speakerphone capabilities.
Accessible Friendly: No
Power Available: No
Directions
The Lake Effect Conference Room may be reserved by faculty, students, and staff for meetings, group study, and presentation practice. By creating this booking request, your group understands: 1. your group consists only of current Oswego State students; 2. The room and technology are intended for group scholastic activities or group/individual presentation practice; 3. Conference table seats up to 6; individual study should be conducted elsewhere in the library. Advance reservation requests must be made using this online form. Requests are processed Monday - Friday 8 am - 3 pm. After 3 pm and on weekends, last minute reservations may be made at the Research Help Desk until 2 hours before the library closes. For questions or more information, see policies below, call Library Administration at 315-312-3554 or 315-312-4232, or e-mail askalibrarian@oswego.edu.
Available
Your Booking
Unavailable/Padding